Home / Careers / National Field Coordinator
Why Global Roofing Group?
Career Advancement
Fun
Technology
Giving Back
Training
The National Field Coordinator is responsible for overseeing and coordinating all activities of a construction site according to site safety rules, project blueprints and project schedule. This position is a full time, on-site position that will be sent to multiple projects in different locations across the United States.
Job Requirements & Responsibilities
Monitoring safety
Coordinating/directing subcontractors and providing on-site direction
Full understanding of all plans, specifications, and schedule
Performing quality control inspections and ensuring punch lists are completed
Submitting daily paperwork for clients
Attending on-site contractor meeting(s)
Submitting daily reports as required
Monitoring and managing material deliveries and inventory use
Ordering additional materials as required
Working with client, sub-contractor, and project manager on resolving on-site issues
Managing change order work and reporting to ensure company gets paid for extra work
Coordinate with manufacturer's inspectors and/or client consultants.
Extensive experience in a superintendent capacity or high-level foreman position
Extensive experience in single-ply roofing desired but not a deal breaker
Ability to work remotely and autonomously
Ability to learn the company technology and use proficiently
Must have extensive knowledge/experience in reading construction plans and specifications
Ability to organize and direct daily/weekly/monthly production benchmarks
Ability to work in conjunction with clients, consultants, sub-contractors, manufacturers, and suppliers.
Must have valid driver's license and clean driving record
Must have or be able to obtain OSHA 30 Hour, Certified lift operator, Certified crane rigger, First Aid/CPR certification
Compensation
Competitive wage based on industry standard, skill set and location
Regular compensation reviews
$70,000 -$80,000 annual salary / DOE
Benefits
Employer sponsored healthcare options including medical, vision & dental
Supplemental insurance options
Employer 401(k) Savings Plan
Career advancement training
Paid travel expenses and daily per diem, employee may use personal accounts to obtain and keep travel points
Tools
Company apparel
Paid time off
Smartphone & Laptop
Vehicle expenses shared reimbursement
Vehicle allowance
Apply Now!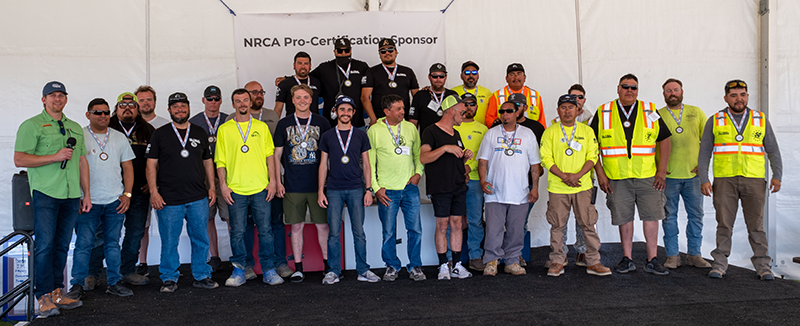 Did you make it to the Roofing Olympics?